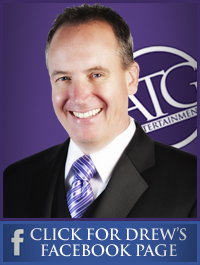 Drew Parham – DJ/Emcee/Coordinator 
Drew is a native to the Charlotte, NC area and he majored in Radio/Television at Western Carolina University. He was Program Director and an On-air personality on WWCU.
He was the night time on air personality at KISS 95.1 for 8 years. He then moved over to WSOC FM 103.7 for another four years. Drew has a love for all types of music (Top 40, Country, Rock, Hip-Hop).
Drew has interviewed numerous stars over the years including Beyonce, Steven Tyler, Jason Aldean, Carrie Underwood and Kenny Chesney. He has made appearences on MTV, served as a local judge for Amercan Idol and has broadcast live from the Winter Olympic Games in Japan.
Drew is living happily with his beautiful wife Nicole and 2 kids in the Lake Norman area. Ask for Drew for your next big event or wedding!
Videos Of DREW
"Working with Drew from Audio to Go was fabulous– the tone of the night, our music tastes, the order of events during the reception– everything was executed even better than we hoped it to be! Using a handful of conversations and survey questions, Drew was able to create the atmosphere we had dreamed about. Communication was seamless. The entire process was virtually stress free and took very little effort on our part, and our reception turned out beautifully– that's definitely a sign of talented professionals! Audio to Go wasn't cheap, but it was 100% worth it in my book"
- Laura & Tyler Hull
"Once you sign a contract with Audio To Go you have an online portal to add songs/timeline. I purchased the Princess package and it was totally worth it. It really made me less stressed to be able to go on to the site during my free time and add what I wanted. The last meeting that my fiance and I had with the DJ he gave us the run down of how the night would go once the reception started… He had everything done to a T. I wanted a reception with high energy and lots of dancing… if that is something you are looking for then book these guys! Drew is AMAZING!"
- Brittany & Brian Doring
"I want to thank Drew Parham … he made my wedding day beyond memorable, he made it PERFECT!! He was patient, knowledgeable, flexible, and his quality of work exceptional. Our guests constantly complimented on how much fun they had at the reception…I loved the fact that you could ask Drew's opinion and he was able to come up with a solution…. only one word describes Drew AWESOME!! !"
- Renee & Mark Brittain