Bar & Bat Mitzvah DJs in the Charlotte, NC Area
Make Your Child's Big Day Memorable with ATG Entertainment
Your child's bar or bat mitzvah is one of the most important days of their young adult life. With all of your friends and family there to celebrate you, the party is already set to be sensational. All you need to add is a professional entertainment service to make their mitzvah memories last a lifetime. Your celebration experts are here to help throw the party they deserve, with music, lights, and entertainment that will leave a lasting impression on your guests. With ATG Entertainment, the celebration is sure to be a hit.
Ready to get a custom quote for your family's upcoming bar or bat mitzvah? Contact us online or call us at 704-537-9300 today!
Bar/Bat Mitzvah DJ Services
Having the right playlist for your party is crucial: Nothing says your guests are having a good time more than them dancing the night away to great music. Build your playlist through the online party-planning portal prior to the event to make sure all your favorite hits make the cut. (Don't worry, parents—all music is kept age-appropriate by our professional staff.) Make your guests truly feel like a part of the event by letting them make music requests throughout the night. Your ATG DJs make the most of the time you have with incredible sound systems, completely custom playlists, and LED dance floor lighting.
Looking for pricing information? Learn about our mitzvah packages »
Personalized Party Packages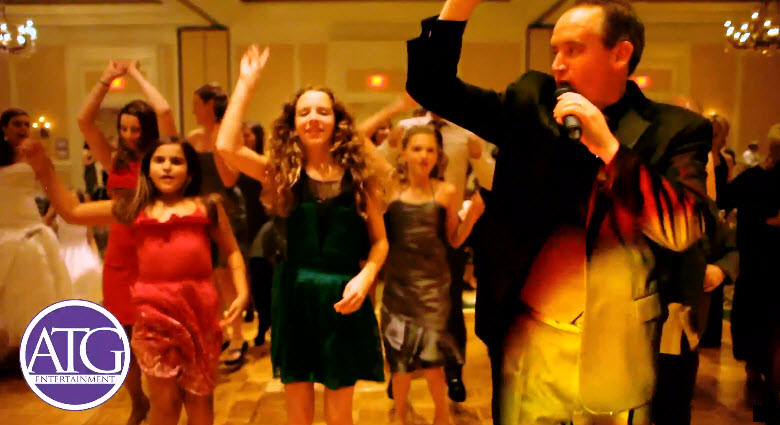 Whether you're having an intimate bar or bat mitzvah with close family and friends or a glamorous celebration fit for royalty, there's a party package available for your price range. Choose from the prefixed packages or select from a range of a la carte options to build the bar mitzvah of your child's dreams. Dazzle your guests with falling snow and elegant uplighting, or give them a chance to model their wild side with a prop-filled photo booth session. For an even more personal touch, add a lit monogram to the dance floor or project it high for all to see. Your partying possibilities are endless with the professional entertainment services provided by ATG.
Book Your Bar/Bat Mitzvah Today!
Your child's Queen City bar/bat mitzvah can't happen without the right DJ. Fill out an information request form online to see if your party date is available and to get a custom quote. Build your personal playlist online, choose from a list of enhancements to bring your bat mitzvah to the next level, and make memories that will last a lifetime.
The party of the century starts with the celebration experts at ATG—start planning yours today!