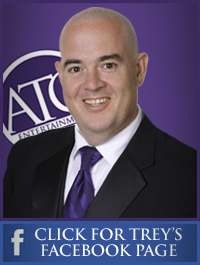 Trey Perry – DJ/Emcee/Coordinator
As a Native Charlottean, Trey has lived in the Queen City all but 9 years. He spent 4 years at the Citadel, in Charleston, SC and 5 years in Eastern North Carolina.
Trey is no stranger to the entertainment industry. He is truly a Carolina Boy with a deep love and knowledge of Beach music and party planning. But don't let that sway your decision, because Trey is well versed in all genres of music and really knows how to get down. As a resident club DJ for Audio to Go, he has major skills in knowing what is popular and what will push your event to the next level.
When he is not working for Audio To Go, he loves spending time with his family. He lives with his lovely wife of 10 years, Angie and their two beautiful daughters, Caroline and Carly. He is an avid reader and a member of the Oasis Shrine Drum and Bugle Corp here in Charlotte.
View Video Of TREY:
"Trey was great with the teens as well as the adults. Everyone loved him. He became like a member of the family. He did a fantastic job and was great helping with the party location layout. Everything about him was great, infact, everyone was having such a good time we had him stay an extra hour. I can't say enough about Trey. I will definitely recommend him and Audio To Go to anyone in need of a DJ. On a scale of 1 to 10 I give him a 20 (I even danced for the first (and last) time in my life lol).
My party was a surprise Birthday Party which Trey helped execute to a T. The best, most memorial event moment was when my niece arrived at the party. Trey announced her arrival and started playing "Happy Birthday" as the crowd yelled "HAPPY BIRTHDAY!" as her blindfold was removed. The look on her face along with her reaction was priceless. That was a moment I will never forget.
WOW! What a party. Everyone in attendance deemed the party the best party of the year. The DJ was awesome. Audio To Go was awesome. They made this day a day my niece will never forget. I would use them again in a heartbeat. You can not go wrong having Audio To Go at your party. They are the best hands down. "
– Rhonda Penson
"Trey was very professional and did everything possible to make sure that our special day was perfect. DJ Trey is WONDERFUL and Audio To Go is AWESOME!!! We will definitely use their services again for future parties.
We were so satisfied with everything that it is almost impossible to put into words. The only thing I can say is "Choose them! You won't regret it!!" Our wedding and reception was the absolute best in the universe and Audio To Go was a huge factor in making that happen!!"
– Carmen & Noel Williams
"From the first phone call, I knew Audio To Go was going to be my choice. The sales staff showed me their services, and how they would complement my party, and assured me that we were going to have a blast. However, the nicest surprise came after I chose the company… all of their pre-party planning is done online! I was given an account and password with which to make song selections, research party tips, and even pay using PayPal! It was totally stress free.
When Trey the DJ called me before the party, he had already seen my song selections online, and used them, and his personal knowledge of people in general, to create the perfect playlist for my guests. He guided me through the whole planning process, making some excellent suggestions to make the party a success. By giving me his personal cell number, I didn't worry about him showing up. He showed up on time, was friendly, and even helped me arrange some chairs! He was gracious with my guests, taking all requests and working them all in. – AND he kept the guests engaged with the dancing, leading us with group dances and showing us the moves.
Audio To Go is now my ONLY choice for DJ services.."
– Laura McGaha