ATG Entertainment NOW has DJs in Virginia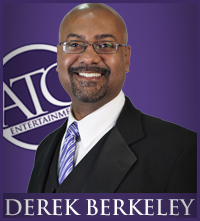 ATG is a national award-winning DJ Company that was founded in the year 2000. They have been awarded The Best Of The Knot as well receiving The Bride's Choice Award for the past 3 years. They were also awarded the Rising Star Award and named Best DJ In The Nation by GigMasters. ATG Entertainment is based out of Charlotte, North Carolina where it first began operations. Over the years though, the word about the DJs at ATG Entertainment has gone viral and has spread not only through NC but the neighboring states as well including Virginia. The number of events that the ATG Disc Jockeys host in VA got the Founder/CEO Brian Hines thinking about expansion options. "Instead of sending our Charlotte NC DJs up to host events in VA every week, it just made sense to move one of our MCs up to the area and start a Virginia DJ division" and so that's what happened.
Derek Berkeley who began working with ATG in the spring of 2005 as an Emcee has been an exceptional addition to the team. With his outgoing, energetic, and magnetic personality, he is able to win over the guests at almost any event. Over half of the events that he works, he ends up going overtime as the clients just can't get enough of the excitement that he brings with him.
When it was time to start the VA division, there was no doubt who would be the best person to head that up. Derek has been with the company longer than any other person on staff other than Brian the owner. Derek is a trusted and committed member to the ATG Group and will be bringing a new level of entertainment to the Virginia area that is long overdue.
Remember, Virginia is for lovers, so when you get married, give ATG a call!
Derek who currently resides in Waynesboro, VA was born in Montreal, Canada, raised in Boston, MA and moved to North Carolina in 2002. While he was in NC he joined the ATG Entertainment Team and has been a very valuable MC for the company.
He started his career as a DJ back in 1993. Since then he has kept people smiling and dancing with his unique charm. Derek is a very detail oriented person. His friendliness and outgoing personality help in creating those memories that you will look back on for years to come.
For an OUTSTANDING party, Derek is the man!
Call To Book Your Event Today: 704-537-9300