Club Style Wedding in Charlotte NC
Wedding DJs or Disc Jockeys in Charlotte NC can definitely enhance your reception but if you want to create a WOW MOMENT for your family and friends and you truly want to create something special that your guests will remember for a long time, consider hiring ATG Entertainment where you will be matched with your very own MC who will help you design a night of your dreams. That is exactly what Pete & Melissa did.
Pete & Melissa Stuppiello KNEW that the ENTERTAINMENT at their reception was crucial to the success of the evening, so they started planning and looking at different companies about a year in advance. After interviewing with a number of DJ Companies in Charlotte NC they decided to go with ATG Entertainment. Pete said "the reason why we chose ATG was because you understood our vision. The other companies told us how THEY were going to run the show, whereas ATG asked questions and wanted to know OUR vision for OUR day. Brian met with us personally and he was truly EXCITED to work with us, it wasn't just another job for him"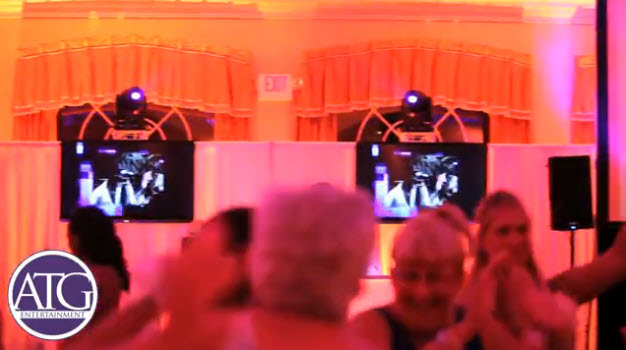 Pete & Melissa did not want the traditional wedding songs and music that are staples with many wedding reception DJs (ie: Electric Slide, YMCA, Cha Cha Slide, etc) they wanted more of a CLUB VIBE that would get their friends energized and dancing to the hype style that they had anticipated. Rather than telling them that their vision was wrong and that it wouldn't work, Brian Hines (their MC) decided he WOULD bring their DREAM to LIFE.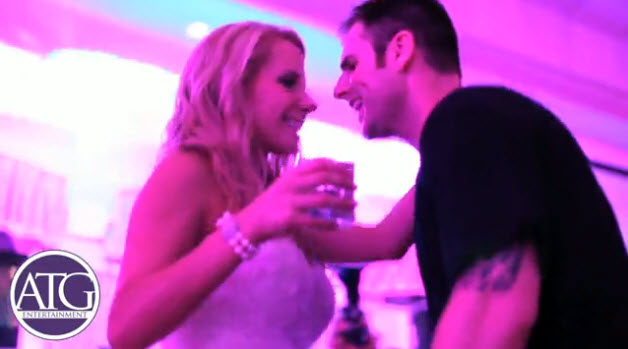 Brian met with Pete and Melissa a number of times before their Wedding to make sure that everything was planned exactly the way they wanted. The organization and detail that you get with a company like ATG is the reason why couples like Pete & Melissa decided to go with them.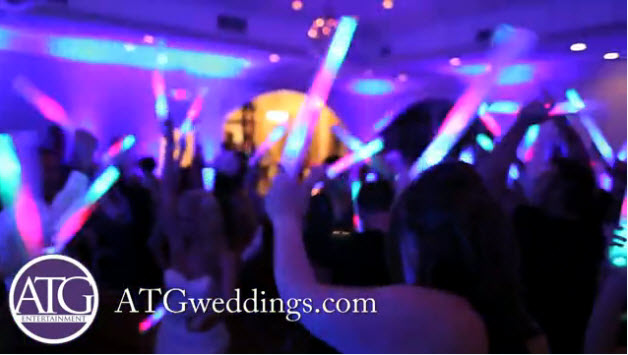 As you can see in the video above, the night turned out wonderful. ATG provided not only DJ & MC services, but ATG also provided other multimedia elements like the HUGE Projection Screens and LED TVs for the slide show that was shown for Pete & Melissa. The screens were also used to play music videos for the dancing portion of the evening. ATG provided their UPGLOW TO GO service by washing the walls of The Magnolia Room with Pete & Melissa's Wedding Colors and then later in the night those same lights changed, creating tons of energy for the dance floor. Spotlights were used to highlight different formalities like the grand entrance, first dance, parent dances, toast, cake cutting, etc. Pete & Melissa also got their monogram in lights which is always a very special touch to customize your day. Near the peak of the dance set ATG also provided their glowing foam sticks since that was important to Pete.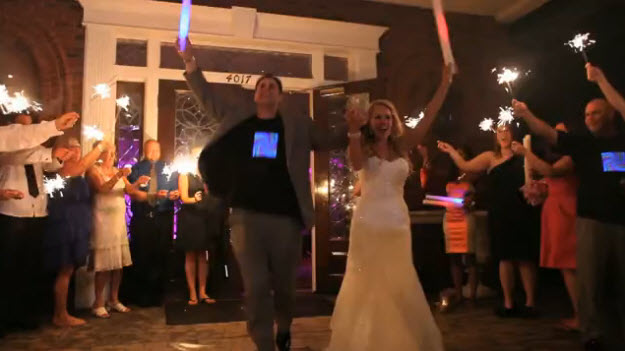 If you are looking for a production company like ATG Entertainment that can take your wedding reception and turn it into a Fairytale Experience give us a call today at 704-537-9300.