Brian Hines and The American Disc Jockey Association
Brian Hines and The American Disc Jockey Association
Brian Hines has dedicated a lot of his time and energy into raising the bar for the DJ Industry. He not only spends time every week training his own staff but he also helps other DJs in his area build and grow their own DJ Businesses!
He has gained national recognition over the past few years and he actually just received the highest award that someone can obtain from the American Disc Jockey Association (ADJA)!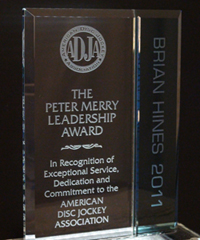 ATG's owner (Brian Hines) won the Peter Merry Leadership Award for 2011. This award is the highest honor that a DJ can receive from the ADJA. Brian was presented this prestigious award at the Mobile Beat National DJ Convention / ADJA (American Disc Jockey Association) National Meeting which took place on Feb 1, 2011 at the Riviera Hotel & Casino in Las Vegas, NV.
The purpose of the award is to honor an ADJA member that has displayed exceptional service, dedication and commitment to the American Disc Jockey Association for the current, calendar year. Brian received the award for the time he unselfishly dedicated to the industry by educating and training other Carolina DJs on how to build and grow their businesses.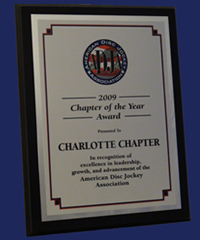 Brian is the founder of the NC Chapter Of The American Disc Jockey Association. He served as the president for the first two years (2008-2010). Under his leadership and direction the NC Chapter won the ADJA Chapter of the Year Award for 2009. They were presented this award in Feb 2010. The award is designed to honor the local chapter that has done the most to help build & grow the ADJA in their market.
His Passion Shows!
If you are looking for an expert, look no further as ATG's Brian Hines has what you need. Brian has structured ATG Entertainment to not only strive to be the best Mobile DJ Company in the Carolinas, but they strive to be one of the best in the country! As you can see from the previous two awards, Brian shoots for the stars.
Click here to contact Brian today to discuss your wedding entertainment needs and ensure that your Big Day is a roaring success!