Wedding DJ at The Charlotte City Club
A Charlotte Wedding DJ can definitely enhance your reception but if you want to create a WOW MOMENT for your family and friends and you truly want to create something special that your guests will remember for a long time, consider hiring ATG Entertainment – where you will be matched with your very own Wedding MC who will help you design the night of your dreams.
ATG specializes in designing Production Style Weddings!
Charlotte Wedding DJ Drew Parham Rocked The Charlotte City Club For Blain & Matt's Wedding. Nothing beats a referral from one friend to another! Blain and Matthew Atkins contacted ATG after seeing Drew Parham perform at Ryan and Heather Anderson's wedding reception at Myers Park Country Club in 2010.
Blain & Matt's wedding ceremony was held a few miles down the road at Myers Park Presbyterian Church. (The church is actually a client of ATG too!) Guests then made their way over to The Charlotte City Club, an elegant venue located on the top 2 floors of the 121 West Trade tower in Uptown Charlotte. Special thanks to Nathan Hoffman, Director Of Private Events at The City Club. As always, Nathan and his staff were amazing. ATG Entertainment's Drew Parham, Chris Thornton and Allison Rose arrived early to set up wireless up lights throughout the Queen Charlotte Ballroom. Blain requested an amber glow that gave the room a warm look. Blain and Matt's guests danced the night away to a mix of Motown, Top 40 and Country. Blain and Matt requested "Wagon Wheel" by Old Crow Medicine Show as their last dance, a great sing-a-long song that really capped off the night on a high note!!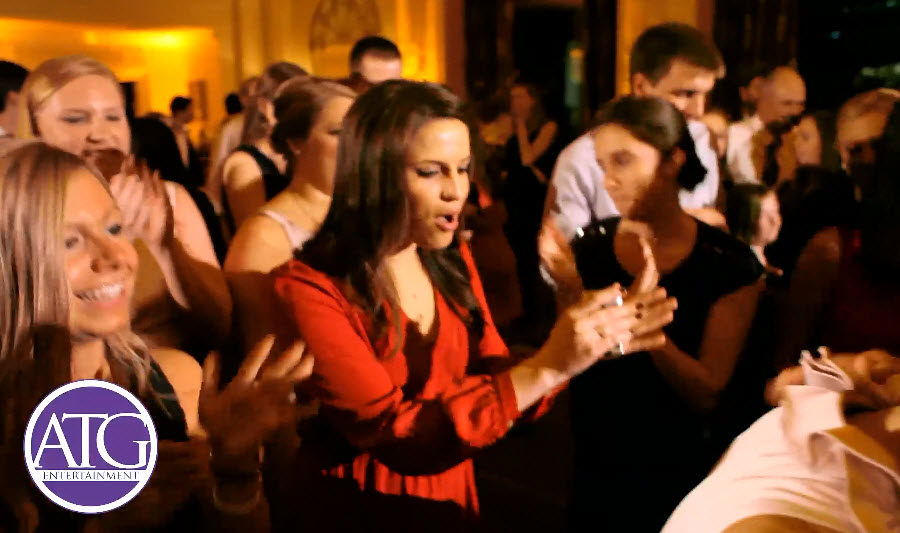 If you are looking for a production company like ATG Entertainment that can take your wedding reception and turn it into a Fairytale Experience give us a call today at 704-537-9300.