The ATG Prom Mega Tour still has a few spots left, reserve yours today. Don't forget to book the ATG Entertainment Team for Homecoming as well. Setup a free demo for your school today by clicking here!
If your School is looking for a DJ that can entertain your crowd and play a mix of music that will get everyone talking about the party for weeks, even months following, then you are in the right place!
Proms & Sweet 16s
There is a very fine line in what can take place when performing at school functions. It is extremely important that your DJ be very knowledgeable in music programming. The DJ must be able to balance the music selections and requests with what is popular, what the kids want to hear, AND what their PARENTS would ALLOW them to listen to.
Audio To Go is amazing. My expectations were far exceeded and Brian made this years prom the best ever. The dance floor was full all night long. We had to kick them out at midnight! We have never had such a large crowd at the end of the night! That is a testament to how wonderful Brian was. Our students loved every minute of their prom!

The #1 complaint that we have gotten in the past is "the DJ sucked!" NOT THIS YEAR!!! All I have heard from everyone is how awesome the DJ was and how great the song selection was!

The "VIP Night Club Experience" package was absolutely unbelievable. The light show and the video screens provided far better decoration than any of the usual prom cardboard decorations. Our money was very well spent!

What good is a formal dance without an amazing DJ? The service we received was top notch! I have and will always recommend AudioToGo to EVERYONE!!! Thank you for providing such a wonderful experience to our students!
I would recommend Audio To Go ten times over for your event. They have done such a fabulous job for us, repeatedly! Our students have even requested that they come back the next year. Thank you so much for making our students prom night a memory that will last them forever!

The Audio To Go folks are truly professionals. They play great music for the students and really get the kids ready to party! They have done wonderful work at every prom for East Gaston High School.

The students love the DJs and this year they loved the photo booth also. These folks really know how to make the party! We will continue to use Audio To Go!

The DJ was top of the line, kept the event exciting and interacted with his audience. I highly recommend the services of Audio to Go. Thanks guys!
Northeast loves/enjoys Brian! He is extremely personable, energetic, and interactive with our middle school students. He really seems to relate to them and to their tastes, but in a school-appropriate way.

When I met Brian for the first time, I saw a lanky and very white man. I thought to myself, "OMG! The rest of the 8th grade staff is going to kill me for hiring him." Once he changed into his dj clothing, I saw nothing but WONDERFUL DJing happening. They came alive and worked the crowd. He teaches them dance steps, gets them clapping and moving and involved. You will not stand along the wall when Brian is at the mike! I feel really badly that I "judge the book by its cover"- I am so glad we do business with him.
As far as our music, we get the same CDs that the radio stations subscribe to. Keeping this in mind, all of our music is already edited for any questionable lyrics. BUT WE DON'T STOP THERE – we go one step further than most – EVEN IF a song has edited lyrics, that doesn't mean that the CONTENT is great. Therefore, our DJs base the selection and content of the songs on what age range we are performing for. For example, if we are at an elemantary school it would have a "G" rating (just like at the movies). If we are at a middle school or high school the songs might be "PG or PG 13″. You have FULL CONTROL over what is and isn't played. Our DJs will work with you to find a happy medium for the kids and adults.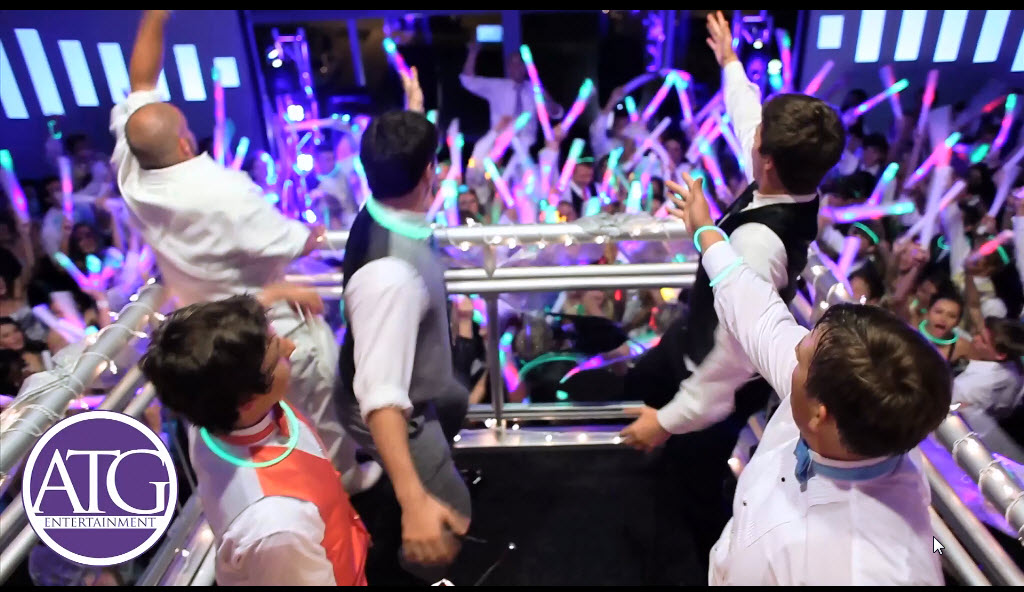 There are many times throughout the year that we can work with you to create a very fun and exciting event. Whether it is a Homecoming Party, Christmas Dance, Valentine's Day Dance, End Of The Year Party, or even The Senior Prom we can bring our experience and professionalism to create an event that you will never forget. Please give us a call for more information!