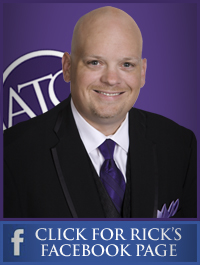 Rick Hyburg – DJ/Emcee/Coordinator
Being a professionally trained vocalist Rick has sung with The National Recording Artist "The BareNaked Ladies" and he has also been a member of several award winning orchestras and choirs. This experience led him to start his DJ Career back in 1994 as a Karaoke Host.
After working as a karaoke host for several different establishments and learning a lot about the entertainment industry – in 2001 Rick opened up his own DJ Company called "The Singing DJ" where he specialized in weddings. He worked with many great couples over the years and he continued to improve his skills as an Emcee..
In 2008 he met up with the owner of "Audio To Go" (Brian Hines) and they decided to start up a local chapter of the American Disc Jockey Association (ADJA) in NC. Rick was the Vice President & Brian was the President of this organization. Under Brian & Rick's leadership, the NC Chapter of the ADJA was awarded Chapter Of The Year for 2009 out of about 60 chapters across the US.
After having a great working relationship in the ADJA with each other, in 2010 Rick finally decided to come on board with "Audio To Go". This was a major win for both parties as ATG now has yet another STAR PLAYER on their team and Rick can go out and do what he does best and ENTERTAIN and leave the administrative stuff to ATG's wonderful office staff.
Rick is originally from Buffalo, NY but he has also lived in Virginia and South Carolina before he finally decided to settle in Charlotte, North Carolina. Rick is happily married with two kids and a Black Lab named Guinness!
"Rick did an excellent job. He was very personable, professional and took care of everything. We all had a wonderful time. Rick and the DJ kept the party moving and got everyone actively involved. They created special moments we will treasure forever"
- Erin & Drew Trabookis
"Rick did a nice job of keeping the music in the background during cocktails and being flexible on the timing of our switch to dance music. He got the group up and active on the dance floor, without being intrusive. Everyone had a great time.We had a seamless expereince with Audiotogo, from the planning to the actual event. Rick did an outstanding job of making music an integral part of the evening's success and was very flexible in letting the event move at its own pace…vs. his. We were very pleased with the overall outcome and glad that we found ATG."
- Scott Stone
"Rick arrived early and provided help where needed. All things asked of him were greeted with a smile and an answer of yes we can do that. Rick brought a great energy to the dance floor that enabled the crowd to quickly follow his lead with songs. Outstanding job done and great representation for Audio To Go. Without the services of Rick Hyburg our event would of not been successful."
- Jon Hearn (US ARMY)